Petit Jean Baptist News
"Come to the Mountain for His Word"



Bro. Bill Scroggs Doug Scroggs
Just Watch This!

An anonymous quote says, "Misery is almost always the result of thinking." When I first saw that quote, it reminded me of some adventures Doug and I and some of our cousins or a couple of our other friends enjoyed when we were younger and more impressionable.

What one boy might not think of by himself, by the time we add a boy or two and/or a girl watching, there is no telling what kind of shenanigans we could conjure. With the kind of quick wit Doug has, it didn't take much for us to find something that kept the adrenaline charged up.

For example, we learned to fix our bikes and, naturally, that led to modifications to personalize them. One day, Doug found a trail that was so long and straight we could get some good speed that just happened to have a nice bump, a bump that allowed us to get a nice little jump.

I am not sure if Doug baited me with this or not, or if I just made him let me go first, but when taking off, I am sure I said something like "Just watch this!"

Sure enough, he was not to be disappointed. As I hit the bump, my bicycle became airborne. At this point, I want to remind you that these bikes were modified to make them personal for us. My bike had a recent modification, changing the front wheel from a 26-inch wheel to a 24-inch beauty. My bike became airborne and I had never flown before. At that point, I remembered a detail concerning my safety that I had intended to take care of before this kind of experiment. I had neglected to tighten the nuts on the axel. Sure enough, the wheel came loose, and in slow motion, my life splashed before my eyes…at least the future part of where my bike was going to land without a front wheel. One scenario included my landing Evil Kenevil style on the rear wheel and stepping off the bike unscathed.

That didn't happen. The front fork of my bike dug into the ground propelling me head over heels over the handlebars, depositing me embarrassingly in front of Doug. He was so concerned for my wellbeing that I can still hear his laughter ringing in my ears. Come to think of it…I think I heard him laughing even while I was still in the air.

What a blessing to have a brother with whom to share laughs, tears, and all kinds of opportunities. The writer of Proverbs 17:17 says, "A friend loveth at all times, and a brother is born for adversity."

In all things I am truly blessed.

Bro. Bill Scroggs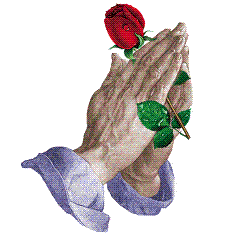 We Lift Up In Prayer

Please be in prayer for Harrison Ciskowski. Harrison has recently seen a cardiologist who wants to schedule a ablation (procedure to correct Wolf Parkerson White) as soon as possible.

Please remember Betty Scroggs in your prayers. Betty had a liver biopsy on Wednesday, May 30th, and a bone scan and cat scan the following day. Results of these tests will not be known until Thursday, Jun 7th. Her family is praying for divine healing and requests your prayers as well.

Please pray for Donna Smith who is having a very difficult time with her arthritis. Donna publishes the Victory Herald, a Christian on-line newsmagazine and it is getting increasingly hard for her to manage this.

Please remember Billy and Anne Vance and Carroll and Nadine Satterwhite as they travel back and forth to the mountain from Mississippi and Oklahoma, respectively.

Reta Scroggs will be having knee replacement surgery on Friday, June 8th. Please keep her and Bro. Bill in your prayers.

Gary Martin, Billy Vance, DJ Eades, Tammy Ferber, and Nancy Donovan are recovering from surgery.

Pray for Blake Chapman and Robbie Collinsworth who are serving in the military.

Bill Wilson, Marcie Drye, Ina Martin, Dr. Berton Heleine, Flora "Bill" Clay, Myron Mann, Jim St.John, Joan Ray, Fern Bess, and Jim Thompson are dealing with heart problems.

Shirley Bell, Robert Steinmetz, Johnathan Steinmetz, Linda Chapman, Ken Bratwell, Agathy Gasaway, Sandy Burr, Gabriel Johnson, Cookie Larrick, James Meadows, Lisa Martin, Dianne Hall, Destiny McArt, Michael Johnson, Jo Woodson, Aubrey Bradbury, Ruth Follis, Al Bembry, Frances Cunningham, and Keith Pinson are battling serious health problems.

Cole Cody, Valery Jackson, Sherry Parks, Nancy Hubbard, Karen Rager, Vicki Branscum, Jeff Scaccia, Fred Steinmetz, Floyd Vance, Dale DeSpain, Gabby Smellmann, Dennis Stewart, Dena Murph, Jerry Elmore, Dr. Herbert Roland, Rev. Larry Hudson, D J Eades, Mary Hopson, Herb Huber, Dena Murph, Keith Rosenthal, Cathy Flowers, Evalee Hukill, Roy Castillion, Suzy Ward, Glen Brison, Teresa Schroepher, Garrett Hayden, and Sandra Dozier are battling cancer.

Tommie Adkins, Virgil Donovan, and Reta Scroggs are struggling with severe forms of arthritis.

Lord, we come to you today with heavy hearts because our prayer list seems to continue to grow with each passing day. There are so many in need of Your healing touch, Your comfort, and Your peace. Lord, we take great comfort in knowing that You are all-knowing and merciful. Touch each of these, our friends and family, and work in each of their lives what You know is the very best for them. In Jesus' precious name we pray, amen.


Bible Trivia
Answers to last week's Bible Trivia
1. In what country did Moses die?
Moab (Deuteronomy 34:5); he was not allowed to enter the Promised Land.
2. Joshua, with God's help, defeated five kings of what nation?
The Amorites (Joshua 10-11)
3. What people could overpower Israel because of their advanced knowledge of metalworking?
The Philistines (1 Samuel 13: 19-22)
4. What people did Joseph's brothers sell Joseph to?
The Ishmaelites (Genesis 37: 25-28)


5. What king of Israel had Ammonite women in his large harem?
Solomon (1 Kings 11)
This Week's Bible Trivia
1. What king of the Amalekites was spared death by Saul, only to be executed later by Samuel?

2. What overweight king of Moab oppressed the Israelites for eighteen years?

3. Moses' wife, Zipporah, was from what tribe?

4. What tribe was descended form a wild ass of a man?

5. Who grieved his Hebrew parents by marring two Hittite women?

Copied from the Whimsical Quizzical Bible Trivia Book
Written by J. Stephen Lang
Missionary Moment
DIANE ELLIS serves in Brazil and is passionate about teaching women to grow in their faith. Her friend, Dani, did not have the privilege of growing up in a Christian home. As an adult, she was not finding joy in her marriage. By teaching Dani the basics about raising children and showing respect, Diane was able to see a change in Dani's home in just a few weeks. Rewards like these encourage Diane, who hopes to expand her ministry with women to include the wives of seminary students. Her husband, MARK, directs a digital seminary offering biblical training online. Praise God for how He uses Cooperative Program and Lottie Moon Christmas Offering® gifts to extend the reach of missionaries on the field. Pray for Diane and Mark as they minister in Brazil and for their family members who live far away. BIBLE REFERENCE: Mark 12:41-44
Copied from the Southern Baptist Convention Web site.
Ministry Prayer Requests
Serena Butler
3085 Stevenson Drive
Springfield, Illinois 62703
serenabutler@ibsa.org
Serena serves with the Illinois Baptist State Association. Pray for the summer missionaries who will be serving across our association for the next three months. A total of twenty-three students will be serving in places like Chicago, associations in the Southern part of our state, and on a traveling worship team. Ask that God would open doors for the gospel to be shared and for these students to be stretched to try new avenues of ministry. Pray that the Lord will lead their time serving with us and inspire them to continue this same work when they return to their campuses at the end of the summer.
Matt and Alis Henderson
PO Box 1647
Kingston, Rhode Island 02881
mattandalis@gmail.com
http://www.uricollegeministry.org
Matt and Alis are collegiate ministers starting a brand new college ministry at the University of Rhode Island. Pray that we fill find favor with the university administration and personnel as we work to establish a presence on the campus. Ask that God will provide opportunities for us to share the gospel and make disciples on the campus. Pray also that the Lord will send new students to us this fall, particularly freshmen students who will join us in disciple-making throughout their time in college.
John Brittain
PO Box 365
Pasadena, Maryland 21123
john.b.brittain@gmail.com
http://www.arundelbaptist.info
John is a church planting catalyst serving in Maryland. Please pray for our team as we plan a regional event for associational workers and volunteers to take place this September. Ask that God would bless our endeavors as we continue to piece the event together. Pray that the Holy Spirit would direct us in all our decisions, from planning breakout sessions to choosing speakers to nailing down logistics for the event. Pray also for those that will attend the event, asking that they be blessed and encouraged to continue their efforts to reach our area for Christ.
Gus Suarez
5001 N. Oak Trafficway
Kansas City, Missouri 64118
gsuarez@mbts.edu
http://Www.mbts.edu
Gus is a national missionary serving in Missouri. Please pray for more students to be mobilized to the Send North America cities, specifically to start new churches. Pray that God would stir the hearts of this next generation to take the lead in church planting efforts across the country. Pray also for the pastors of language churches in North America. Ask that God would bless their efforts in reaching specific language churches and that they would find a field ready for the harvest.
Jennie London
P.O. Box 1327
Panama City, Florida 32402
vim.nwca@juno.com
Jennie is the volunteer missions coordinator for the Northwest Coast Baptist Association. The Tri County Baptist Association, our West Virginia partnership organization, is in the process of making many ministry decisions over the next several months. Please pray with us that God will guide them as they work to make the best decisions for their association. Ask that He will meet their needs and bless them as they work to increase the effectiveness of their ministry efforts.