Petit Jean Baptist News
"Come to the Mountain for His Word"
---
May 2014
---


From the Desk of
Bro. Bill Scroggs
Just a Touch

This has been an interesting week. Last week we had been warned that severe weather could be headed into our state. Of course, almost nobody has trouble thinking about a past spring that had been disrupted by a flood or tornado.

As tales are relayed from one to another about how a disaster impacted the victims' lives, you can tell by the accounts how great the damage was.

Having lived through several direct and indirect hits from tornadoes (at least 4 close ones), you learn to respect the forecasts where tornadoes are predicted.

Last Sunday night will be deeply etched in the minds of young and old as an evening where storms shook our state once again. The level of television coverage has improved to such an extent we are able to see a radar image in such detail as height, speed, temperature and several other characteristics that let us see storms almost face to face.

The difference in how the stories about the storms are seen is how close to the storm the person was. Many heard the storm or about the storm, but some were hit and affected. The ones who were touched by the storm give a whole different account and urgency in relating their story.

The same is true in our relationship with Jesus Christ. Some people have heard about Jesus and others have been touched by a personal intimate, saving relationship and will never be the same.

When we are touched in this manner, we too will never be the same. You are compelled to share your story and witness how God's power has touched your life. Jesus tells us in Acts 1:8, "But ye shall receive power, after that the Holy Ghost is come upon you: and ye shall be witnesses unto me both in Jerusalem, and in all Judaea, and in Samaria, and unto the uttermost part of the earth."

The touch transforms us from knowledge to a real and personal walk with God as experienced by the early disciples.
---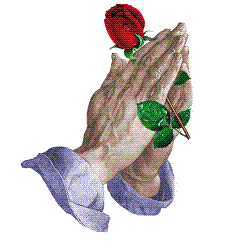 We Lift Up In Prayer

Henry Jones fell from a ladder and broke his leg. Please keep him and Kaye, his wife, in your prayers.

Please pray for the family of Robbie Aarons.

Blake Chapman, Robbie Collinsworth and Angie Willis are serving in the military.

Fern Bess, Flora "Bill" Clay, Paul Fitts, Myron Mann, Ina Martin, Annie Rozivka, Jim St. John, Jim Thompson, and Lloyd Vance are dealing with heart problems.

Shirley Bell, Al Bembry, Ray Bertram, Aubrey Bradbury, Ken Bratwell, Sandy Burr, Phil Chapman, Frances Cunningham, Keith Duncan, Ruth Follis, Agatha and Lonnie Gasaway, Dianne Hall, Gabriel Johnson, Michael Johnson, Cookie Larrick, Lisa Martin, Destiny McArt, James Meadows, Carroll Satterwhite, Buddy Sherman, Johnathan Steinmetz, Robert Steinmetz, Billy Vance, and Jo Woodson are battling serious health problems.

Linda Beard, Vicki Branscum, Glen Brison, Roy Castillion, Linda Chapman, Cole Cody, Dale DeSpain, Sandra Dozier, D J Eades, Suzanne Earl, Jerry Elmore, Linda Elz, True Fitch, Cathy Flowers, Ed Garrett, Garrett Hayden, Mary Hopson, Buddy Hoezleman, Nancy Hubbard, Herb Huber, Rev. Larry Hudson, Evalee Hukill, Lambert West, Dena Murph, Tina Parish, Sherry Parks, Denise Robinson, Dr. Herbert Roland, Keith Rosenthal, Jeff Scaccia, Teresa Schroepher, Betty Scroggs, Gabby Smellmann, Fred Steinmetz, Dennis Stewart, Bill David Walker, and Suzy Ward are battling cancer.

Tommie Adkins, Virgil Donovan, and Reta Scroggs are struggling with severe forms of arthritis.

Heavenly Father, we lift up our family and friends to You, praying for Your divine guidance in their lives, and for their caregivers. We pray for Your healing touch and merciful grace. We thank you Lord for all the answered prayers and for your many blessings on us all. In Jesus' precious name we pray, Amen.
---
Missionary Moment

SUZANNE PERRY is an international missionary living in North America. The university where she serves, University of British Columbia (UBC) in Vancouver, is a world-class institution that attracts students from 150 countries. Some students come from countries where mission work is restricted or prohibited, thus they have not heard the Gospel prior to coming to Canada. It has been her privilege to be the first one to tell many of them about Jesus. For others, she is the first Christian they have met. Her prayer is for international students to have meaningful encounters with Jesus while they are here and to embrace the love and salvation He offers them. She is grateful that the Cooperative Program makes it possible for her to help reach the world in Vancouver.
---
Annie Armstrong Results

We have now concluded this year's Annie Armstrong Easter Offering for North American Missions. Our goal was $1,500 and we are grateful that we have surpassed this. We are blessed in being able to send $2,079.18 to the Southern Baptist Convention for this mission effort.
---

Answers to last week's Bible Trivia

1. Who were the first wealthy men to set eyes on Jesus?
Probably the wise men; since they brought expensive gifts (gold, frankincense, myrrh) and had traveled a long way, they were undoubtedly well-heeled.

2. What king of Israel became legendary for both his wealth and his wisdom (and a lot of wives, to boot)?
Solomon

3. What man did Jesus tell to sell all his possessions and give the proceeds to the poor?
The rich young nobleman, who is not mentioned by name (Matthew 19: 16-22); the young man did not take Jesus up on his offer.

4. According to Jesus, what is easier than a rich man entering the kingdom of heaven?
A camel going through the eye of a needle (Matthew 19: 24)

5. Who was given money to say that Jesus' disciples had stolen his body from the tomb?
The Roman soldiers (Matthew 28: 12-15)
This Week's Bible Trivia

1. Whom did Jesus send fishing in order to get money for taxes?

2. To whom did Jesus say, "If thou wilt be perfect, go and sell that thou hast and give to the poor"?

3. Who paid an enormous amount of silver to buy a cave to bury his beloved wife in?

4. What (formerly) rich man sat in a pile of ashes?

5. Who stated that, being a poor man, he couldn't possibly marry Saul's daughter?

Copied from the Whimsical Quizzical Bible Trivia Book
Written by J. Stephen Lang
---
Events Calendar

Sunday Schedule
Sunday School 9:30 a.m.
Morning Worship 10:30 a.m.
Choir Practice 5:00 p.m.
Evening Worship 6:00 p.m.

Wednesday Schedule
Bible Study 6:00 p.m.

Monthly Prayer Breakfast
Saturday, May 31 8:00 a.m.
---
Anniversaries

May 23 John and Diann Hale
May 25 Robert and Nancy Fitts

Birthdays

May 1 Henry Jones
May 2 Marion Eades
May 2 D.J. Scroggs
May 3 Samantha Rozvike
May 12 Dorothy Privett
May 14 James Walpole
May 14 Nadine Satterwhite
May 16 Braeden Brewer
May 20 Rebecca Pitts
May 22 Janet Eoff
May 22 Emma Pitts
May 25 Theresa Bertran
May 25 Fred Walpole
May 31 Mariah Rager
---
Second Childhood
What Great Fun
Elizabeth Kay and Mary Ann, remember the names. Think what childhood means to you. Consider the saying that old people go into a second childhood. Now the facts: about February of this year E. Kay (retired school teacher) and I (retired bookkeeper) decided we would learn to canoe and in the future enter some canoe races. Going ahead with our plan, we asked a friend to loan us a canoe and E. Kay's grandson, Calvin, gave us our first lesson. During spring break my grandson, John Savage, gave us another lesson, during this lesson I dumped E Kay out of the Canoe. Being the trooper she is, she asked her son, Clayton, (good looking man) to continue the lessons. We are beginning to feel right proud of ourselves. This second childhood stuff is pretty fun. And, we have plans for the third childhood, but to go with our story… Clayton purchased us each a fancy little waterproof and floatable container for our phones and valuables. E.Kay was so excited, but Clayton said that is not all, he took her outside and showed her a canoe he had just purchased. Man oh man, she came right in and called me and told me she had a canoe. Her husband, Cecil said, "Now Kay, that is Clayton's canoe." E Kay did not let that bother her. Well we took the canoe for its maiden voyage on Lake Baily, smooth as silk gliding through the water! We named her right then and there, Mary Elizabeth, and we are going to paint her up real pretty. Loving this age. Thank you , Clayton Jones.

By Ann Vance