Petit Jean Baptist News
"Come to the Mountain for His Word"
---

Follow Me

One day, the airplane Stanley boarded had mechanical problems. Twice, the passengers had to deplane and wait in the terminal. By the second time they re-boarded, some were visibly upset. One fellow complained to the stewardess, "I asked the people at the desk for an aisle seat." She looked at his ticket and said, "No, that's a center seat." "Well, I asked for an aisle seat," he fumed. Stanley, sitting in the adjacent aisle seat, jumped up and said, "Here, you can have this one." The fellow said angrily, "No, I don't want your seat." He took off his coat disgustedly, wadded it into a ball, threw it in the overhead luggage compartment, slammed the door shut and sat down in the middle seat. Stanley got up, opened the compartment, shook the wrinkles out of the man's coat, put it back neatly folded, shut the door and sat back down. A few minutes later the coat's owner asked Stanley, "What do you do for a living?" Stanley said, "I teach people how to live." The man nodded remorsefully and said, "Start teaching." "Me too!" said the fellow sitting by the window.

In Mark 14:2 Jesus said, "Follow me." May we live in such a way that those around us might desire to learn from us and follow our actions/reactions.
Rev. Bill Scroggs
---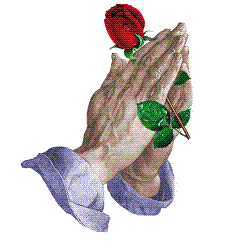 We Lift Up In Prayer

DJ Eades was admitted to the hospital in April due to heart problems. Please remember him and his wife Mary Ann in your prayer..
Please pray for the family of Wilber Arnn, Wilber passed away the 15th of April.
Blake Chapman and Robbie Collinsworth are serving in the military.
Fern Bess, Flora "Bill" Clay, Myron Mann, Ina Martin, Jim St.John, Jim Thompson, Floyd Vance, and Bill Wilson are dealing with heart problems.
Shirley Bell, Al Bembry, Aubrey Bradbury, Ken Bratwell, Sandy Burr, Linda and Phil Chapman, Frances Cunningham, Ruth Follis, Agatha and Lonnie Gasaway, Dianne Hall, Gabriel Johnson, Michael Johnson, Cookie Larrick, Lisa Martin, Destiny McArt, James Meadows, Buddy Sherman, Johnathan Steinmetz, Robert Steinmetz, and Jo Woodson are battling serious health problems.
Vicki Branscum, Glen Brison, Roy Castillion, Cole Cody, Dale DeSpain, Sandra Dozier, D J Eades, Suzanne Earl, Jerry Elmore, Linda Elz, Cathy Flowers, Garrett Hayden, Virginia Hill, Mary Hopson, Nancy Hubbard, Herb Huber, Rev. Larry Hudson, Evalee Hukill, Dena Murph, Sherry Parks, Denise Robinson, Dr. Herbert Roland, Keith Rosenthal, Jeff Scaccia, Teresa Schroepher Betty Scroggs, Gabby Smellmann, Fred Steinmetz, Dennis Stewart, and Suzy Ward are battling cancer.
Tommie Adkins, Virgil Donovan, and Reta Scroggs are struggling with severe forms of arthritis.
Heavenly Father, we come to you with heart felt concern for our friends and family. You know the need of each on this list, as well as the unspoken needs, and we pray that you touch each life with your loving and merciful hand. Give them peace, comfort, and guidance. Give their care givers the knowledge they need to help their loved ones. In Jesus' holy name we pray. Amen.
---

Bible Trivia
Answers to last week's Bible Trivia
1. What evil king of Judah was humbled and repentant after being taken to Babylon in chains?
Manasseh (2 Chronicles 33: 10-13)

2. What king removed the gold from the doors of the temple and gave it to the king of Assyria?
Hezekiah (2 Kings 18:16)

3. What king of Persia issued the decree that the people of Judah could rebuild their temple?
Cyrus (Ezra 1: 1-4)

4. What upright young man was made ruler over the whole province of Babylon?
Daniel (2: 48)

5. What Babylonian king caused famine in Jerusalem?
Nebuchadnezzar (2 Kings 25:1-3)
This Week's Bible Trivia
1. What Old Testament people do today's Arabs trace their descent from?

2. What fierce tribe threatened to gouge out the eyes of all the inhabitants of Jabesh Gilead?

3. What woman was given as a wife after her future husband brought in two hundred Philistine foreskins as a gift to her father?

4. What tribe was noted for wearing gold earrings?

5. Uriah, the first husband of King David's wife Bathsheba, was from what tribe?
Copied from the Whimsical Quizzical Bible Trivia Book
Written by J. Stephen Lang
---
Missionary Moment
Every year, the Texas Port Ministry ministers to more than 10,000 international seafarers from nearly 50 countries. Giving the hope of Christ and creature comforts, such as Bibles, phone cards, clothing and recreation, to those who are far from home and family is BOBBY FULLER's passion. He is a North American missionary serving in Freeport, Texas. The world comes to Freeport and most of the time it is tired, lonely and searching. Your gifts through the Cooperative Program help Bobby meet the spiritual, physical and social needs of the seafarers, truck drivers and port workers in the Freeport Harbor community through the Texas Port Ministry.
---
May Events Calendar

Sunday Schedule

Sunday School 9:30 a.m.
Morning Worship 10:30 a.m.
Choir Practice 5:00 p.m.
Evening Worship 6:00 p.m.

Wednesday Schedule

Bible Study 6:00 p.m.

Monthly Prayer Breakfast

Saturday, May 25 8:00 a.m.
---

May Birthdays

May 1 Henry Jones
May 2 Marion Eades
May 2 D J Scroggs
May 3 Samantha Rozivka
May 12 Dorothy Privett
May 14 James Walpole
May 14 Nadine Satterwhite
May 16 Braeden Brewer
May 20 Rebecca Pitts
May 21 Sandy Skipworth
May 22 Janet Eoff
May 20 Emma Pitts
May 25 Theresa Bertram
May 25 Fred Walpole
May 31 Mariah Rager


May Anniversaries

May 23 John and Diann Hale
May 25 Robert and Nancy Fitts
---
Grandparents Corner


Wayne and Phyllis Adams with their granddaughter Ashley
Wayne and Phyllis Adams visited with granddaughter, Ashley Adams, at Don Roberts Elementary School PTA, Little Rock, Arkansas, on September 12, 2012. Ashley is the daughter of Jeff and Rachael Adams.
---


Noah Fulton Vance
Noah Fulton Vance was born before midnight on April 25, 2013 to John Michael and Sarah Vance. Noah weighed 10 pounds and 1 ounce. He was born at St Vincent's Hospital in Little Rock. Noah is the grandson of Mike Vance and the great grandson of Billy and Anne Vance. Katie, Mike Vance's daughter, is Noah's proud aunt.
Billy and Anne have 4 children and 8 grandchildren. Noah is their first great grandchild.
---

Emma Pitts as Annie
Emma Pitts reprises her role as Anne, a role she played in 2008. Emma is the daughter of Jeremy and Rebecca Pitts and lives in Clarksville, Arkansas, where she attends high school. She has one brother, Isaac James, and a sister Alanis Joy. She is the granddaughter of Bro. Bill and Reta Scroggs, and Rhonda and Lloyd Pitts; and great granddaughter of Jay and Betty Scroggs.
---
Bits and Pieces

Sarah Engebrecht
Sarah Engebrecht is shown here displaying her pastels and oil. We knew that Sarah was a talented actress; she has acted in several plays at Morrilton High School where she is a junior this year. We knew she has a great knowledge of the wildlife on Petit Jean. Now we have learned she is a gifted artist.
Sarah is the daughter of Shane and Rachel Engebrecht and older sister to John David. Sarah is always bright and cheerful and is quick to offer praise for what the Lord has done in her life.
Sarah's painting will be framed and displayed in the church. We praise God for Sarah and for what she means to us and to First Baptist Church of Petit Jean.
---


Coe Wilson as Aunt LaMerle Verdeen Minshew
Cow Wilson play the part of Aunt LaMerle in the production of "Rex's Exes", a Jones Hope Wooten Comedy, at the Rialto Theater in Morrilton, Arkansas. Coe also played the part of Aunt LaMerle in an earlier production of "The Red Velvet Cake Wars", playing opposite Lindell Robert's character, Uncle Aubrey Verdeen, in both plays.
We look forward to Coe's next play and we are confident she will continue to be a huge success.

---
GOD HAS A SENSE OF HUMOR
A woman received a call that her daughter was sick. She stopped by the pharmacy to get medication, got back to her car and found that she had locked her keys inside. The woman found an old rusty coat hanger left on the ground. She looked at it and said "I don't know how to use this."
She bowed her head and asked God to send her HELP. Within 5 minutes a beat up old motorcycle pulled up, ridden by a bearded man who was wearing an old biker skull rag. The man got off of his cycle and asked if he could help.
She said: "Yes, my daughter is sick. I've locked my keys in my car. I must get home. Please, can you use this hanger to unlock my car?"
He said "Sure." He walked over to the car, and in less than a minute the car was open.
She hugged the man and through tears said "Thank You SO Much! You are a very nice man."
The man replied "Lady, I am NOT a nice man. I just got out of PRISON yesterday; I was in prison for car theft."
The woman hugged the man again sobbing, "Oh, thank you God! You even sent me a Professional!"
Is GOD Good or What!?